Roe Green Village Residents' Association
ROE GREEN VILLAGE residents are the best!   Anyone self-isolating in Roe Green Village and needs someone to talk to or needs some shopping, please go to contact@roegreenvillage.org.uk 
And to everyone who reads our website, we want to wish you all the best and stay safe and well during this very stressful time for all.
To cheer the place up and see how creative our young people are in the village, we are starting a pavement drawing competition (before it rains!).  We want to see how colourful and cheerful we can make our surroundings while we keep close to home.
You are now entering
Brent Council's "Jewel in the Crown" Conservation Area celebrates its centenary
Roe Green Village is a vibrant community in North West London. Originally built in 1916 for the workers of the nearby aircraft factories, the village was designed as a 'Garden Village' in the Arts and Craft style by Sir Frank Baines and to this day it maintains a village like atmosphere.  Building completed in 1918, last year celebrated its centenary.  On Saturday 6th July 2018 the tradition continued (see side panel – upcoming events)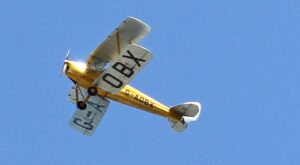 In 1968 the local authority designated it a conservation area in order to "preserve and enhance" its unique character. Read more in our History section.
The centenary held this year, 2018, was an outstanding event with over 400 people attending and the remarkable and emotional fly past by a Tiger Moth plane built at De Havilland factory in Stag Lane around 1918 and still flying!
Follow us on Facebook – facebook.com/RoeGreenVillage
VILLAGE DAY – 2020 will be combined with International Picnic Day
Did you live in the village between 1920 and 1945?  A book and film is being compiled and we need some childhood memories of that time.

Please share your memories and get in touch at: contact@roegreenvillage.org.uk
Tea & Memories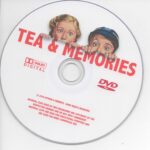 A 90 minute film is available on DVD at £10.  It covers the Village from its inception to the present time.  Stories told by residents who have lived their lives as children in the village bringing to life television clips of the time.   Accompanying the film is an A4 hardback Centenary edition £20 (Special price of £25 for DVD and book).  Contact Debbie on 020 8206 2436 or contact@roegreenvillage.org.uk
DONATED:  The balance of our RGV Centenary T-shirts have been donated to a Primary School and people in the area in the Philippines where they have been hit by recent earthquakes.
Village Days from 1918 to the centenary 2018 and beyond!
Roe Green Village has organised a Village Day, run by residents for residents and friends, since the Silver Jubilee Year, 1977.   It was organised as part of  Her Majesty the Queen's Silver Jubilee and has since evolved into an event that attracts visitors from the surrounding boroughs.   Stalls are set up on the village green during the day, followed by live music and dancing through to the evening.
| | |
| --- | --- |
| Village Day 1978 | Centenary Village Day 2018 |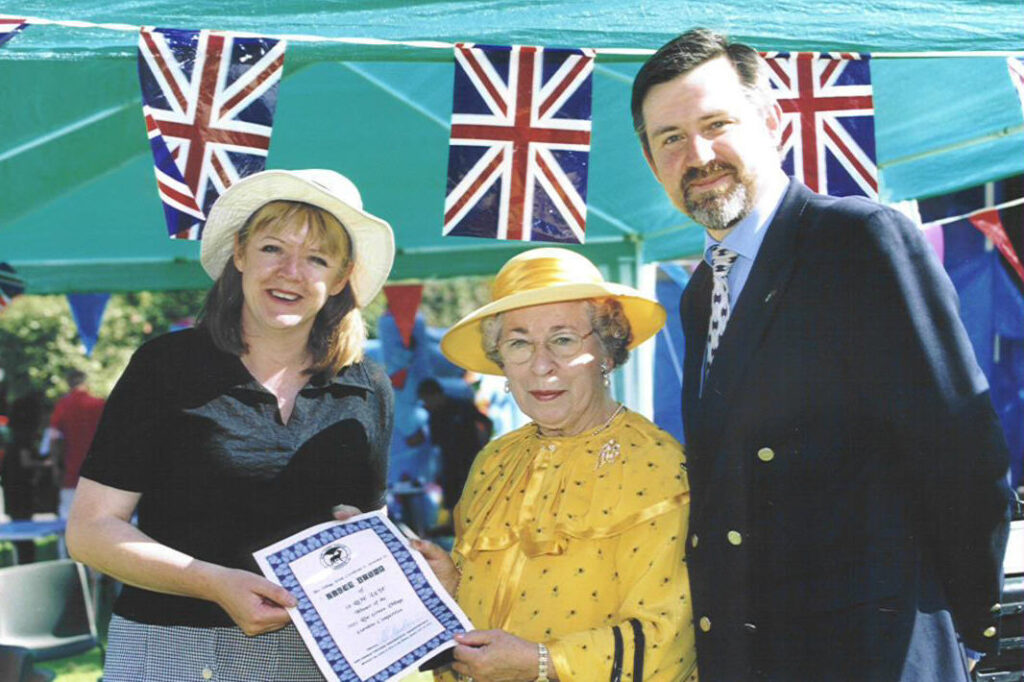 In 2012 we celebrated Her Majesty the Queen's Golden Jubilee;  and the above photograph
l-r resident Hazel Brown accepts an award from Jeannette Charles (the first and best Queen look-a-like) with Barry Gardiner, MP.
Punch & Judy

The Best of the West Indies!
2013 Village Day was the 'hottest" in every sense of the word.  A traditional Punch & Judy with 'Professor' Robert Styles caused a few gasps from the parents and laughter from the children.
Five years on in 2018 the whole of June was dedicated to the centenary.  It started with a Writing competition, then a Funwalk around the Village;  we had a Quiz night;  The very popular Village Dog Show was held for the 3rd year – a Crufts original.    It all culminated in the biggest event Roe Green Village has ever held on the Green in Roe Lane.  Huge marquees had been erected in place of the small gazebos which transformed the Green. The Brent Youth Orchestra greeted the Mayor and Leader of Brent Council, after unveiling the new Roe Green Village sign.  There was a great selection of stalls from Indian Head Massage to homemade pottery from earth in our back gardens!  Children's games were organised including old favourites like the sack race and the adults joined in on the tug-0′-war.  We held a Great Village Bake-off judged by Urvashi Roe too. Then late afternoon a 22-piece jazz band, KIX, played the tunes of the era and then finished the evening with DJDan's disco. It has been a centenary to remember.
A Cohesive Community
The Residents' Association is very active, and organises a number of events throughout the year, such as live music and "quiz & chips" nights;  Day and Weekend trips here and abroad;  and towards the end of the year, a traditional carol singing on the Village Green with Father Christmas dropping in with presents for the children.
Roe Green Village is unique in this part of London, and it is an oasis of calm, characterised by a truly cohesive community.
Come and pay us a visit and see for yourself!